We're one of the largest independently owned and operated newspaper wholesalers in the country.  
We distribute hundreds of local, national and international newspapers.  We also distribute hundreds of top-selling consumer and business magazines and other retail merchandise to 10,000 area merchants.   Our menu of additional services includes vending, hawking, specialty/amenity drops, custom distribution, Alternate Delivery and even home delivery.
Our size is a win for publishers. 
They earn higher nets per copy sold than would be possible from their own direct delivery or from other distribution options.  But that's not all.  Nobody covers New York Metro like NDA.  With more than 30 years of experience, five strategically located distribution centers and hundreds of daily regular and flash routes, we deliver unbeatable market penetration among all classes of trade.  What's more, we work with every major chain and serve what's probably the most extensive list of independent retailers in the region.
Our management team is experienced and  we field a team of dedicated Sales and Marketing professionals who conduct field assignments and maximize sales.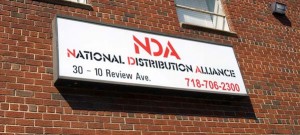 With daily delivery (yes, 365 days per year), we're easy with which to work and flexible. 
Change your draw today, it will take effect tomorrow.  Publishers typically choose one of our two solutions:  a traditional buy/sell wholesale distribution model or our new full-service solution in which we assume responsibility for your circulation and delivery prep in addition to wholesale distribution.  Increasingly publishers are choosing the full-service option because it typically drops significant annual savings to their bottom-lines and allows them to concentrate on other strategic initiatives.
Even retailers prefer NDA because we're efficient and more cost-effective for them. 
With hundreds of titles to choose from, we make one secure, in-store delivery each day and deliver one consolidated bill each week.  Merchants earn competitive rates and if a title pays Retail Display Allowance, we pass 100% of it through to the merchant.  Risk is kept at a minimum because all unsold periodicals are eligible for return credit.  For the retailer's convenience, we collect and scan returns on a weekly basis — still the most accurate way to gauge net paid sales — and post return credit the following week so retailers never have to worry about a carry-forward balance.  And our experienced multilingual Customer Care team is only a phone call away available during convenient hours.
Our size and delivery footprint make us different but it's our team, our publishers and our retailers that make us successful.